Używanie jednego uniwersalnego hasła do wielu serwisów, nie jest dobrym pomysłem. Wymyślanie nowych, trudnych haseł i ich zapamiętywanie jest jeszcze trudniejszym wyzwaniem. Czasy, gdy spisywało się wszystko na kartce, odeszły w zapomnienie.
Passwords are like underwear:
you don't let people see it, you should change it very often,
and you shouldn't share it with strangers. Chris Pirillo

A więc, w jaki sposób przechowywać hasła na komputerze?
Do tych celów używam KeePass-a.
Przechowuje loginy, hasła oraz adresy URL w zaszyfrowanej bazie danych, do
której dostęp mamy podając hasło lub plik z kluczem. Największą jego zaletą,
jest to, że jest przenośny, nie wymaga instalacji dzięki czemu bez problemu
możemy trzymać go na pendrivie, tworząc w prosty sposób kopię bezpieczeństwa.
Po ściągnięciu, tworzymy nową bazę:
a następnie możemy już dodawać hasła: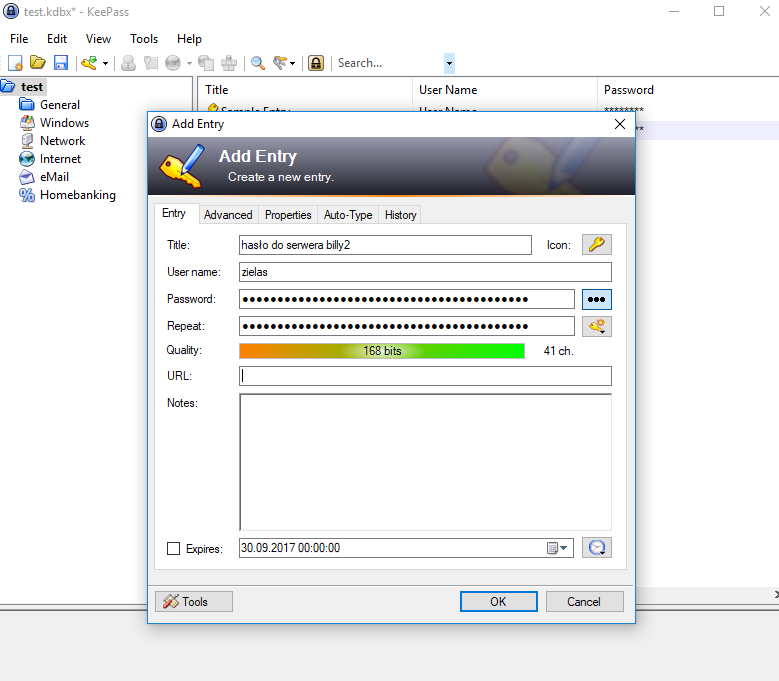 Dzięki takiemu rozwiązaniu, możemy do każdego serwisu tworzyć unikalne hasło. Jedyną rzeczą, którą musimy teraz pamiętać, to skomplikowane hasło, które sobie utworzyliśmy w celu dostępu do bazy.